2023 VIASM Workshop on Dynamical Systems and Related Topics
2023 VIASM Workshop on Dynamical Systems and Related Topics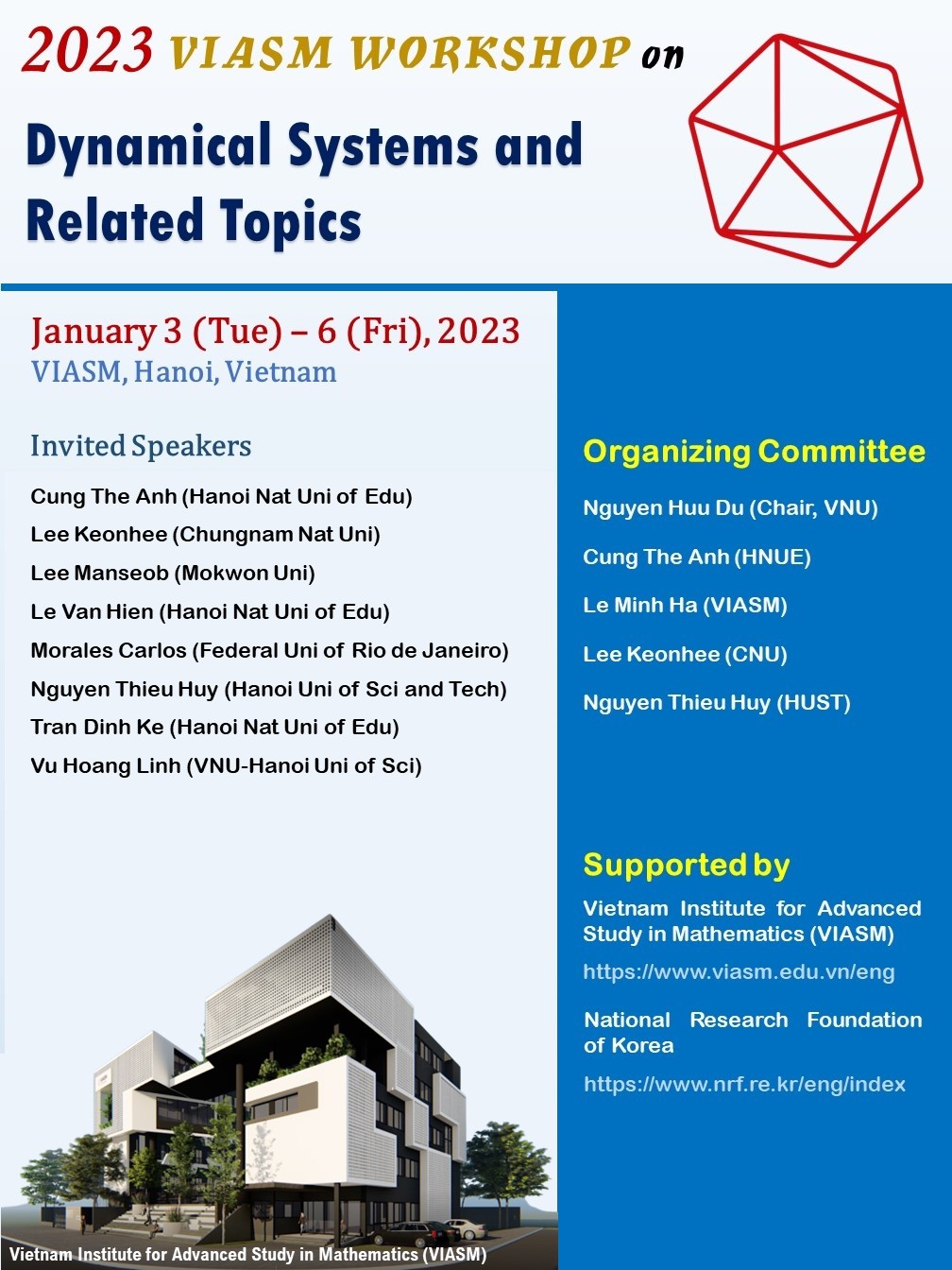 Time:08:30:03/01/2023 to 17:00:06/01/2023
Venue/Location: VIASM
Contents:
The 2023 VIASM Workshop on Dynamical Systems and Related Topics will be held at the Vietnam Institute for Advanced Study in Mathematics (VIASM) from Jan 3 (Tue) - 6 (Fri), 2023.
The purpose of this workshop is to introduce what our research group is currently working on dynamical systems (induced by various equations) and related topics, share the ideas with each other based on the presentations, and finally lay the foundation for our joint research among the participants.
We hope this workshop will provide an environment where we can find interesting problems in the theory of dynamical systems and related topics. We think this kind of event is important for young researchers and graduate students.
Invited Speakers:
- Cung The Anh (Hanoi National University of Education)
- Lee Keonhee (Chungnam National University)
- Lee Manseob (Mokwon University)
- Le Van Hien (Hanoi National University of Education)
- Morales Carlos (Federal University of Rio de Janeiro)
- Nguyen Thieu Huy (Hanoi University of Science and Technology)
- Tran Dinh Ke (Hanoi National University of Education)
- Vu Hoang Linh (VNU-Hanoi University of Science)
Organizing Committee:
- Nguyen Huu Du - Chair (VNU-Hanoi University of Science)
- Cung The Anh (Hanoi National University of Education)
- Le Minh Ha (Vietnam Institute for Advanced Study in Mathematics)
- Lee Keonhee (Chungnam National University)
- Nguyen Thieu Huy (Hanoi University of Science and Technology)
Language: English
Contact: Nguyễn Ngọc Thạch, ngngocthach91@gmail.com
Website: https://sites.google.com/view/2023ds