Hội thảo hàng năm 2019 (VIASM Annual Meeting 2019)
Hội thảo hàng năm 2019 (VIASM Annual Meeting 2019)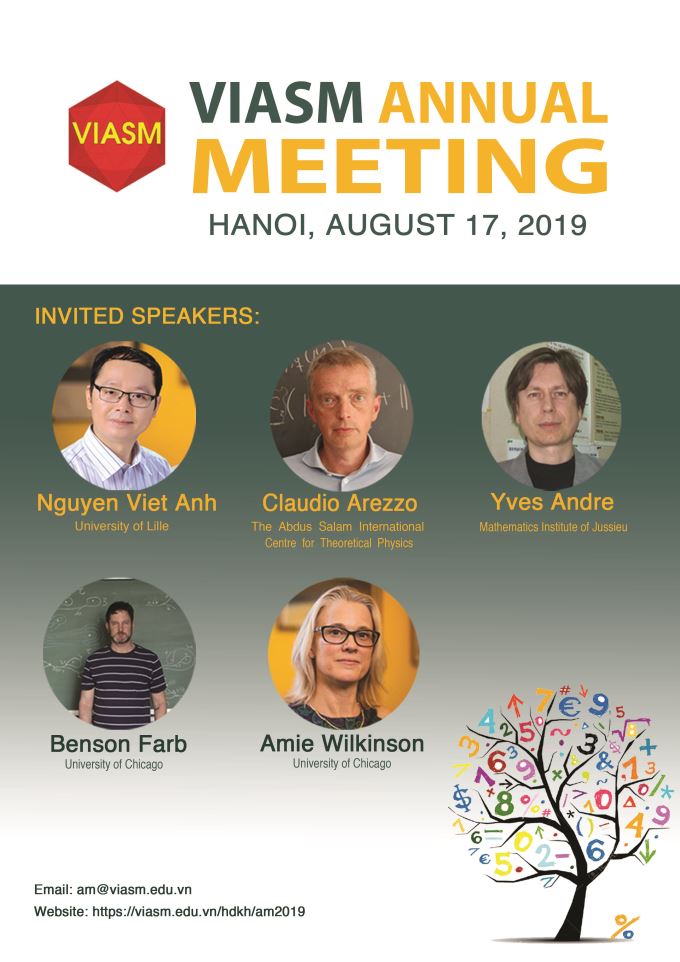 Time: 08:00 to 17:00 Ngày 17/08/2019
Venue/Location: Lecture hall C2, Vietnam Institute for Advance Study in Mathematics (VIASM) 7-th floor, Ta Quang Buu Library, in HUST's campus; 1 Dai Co Viet street, Hanoi.
VIASM Annual Meeting is a regular activity of Vietnam Institute for Advanced Study in Mathematics.
VIASM invites leading mathematicians from different areas of mathematics to deliver lectures on central topics of contemporary mathematics.
Organizers: Ngo Bao Chau (Univ. of Chicago – VIASM), Le Minh Ha (VIASM)
Speakers:
Nguyễn Việt Anh - Lille University, France
Yves Andre - Institut de Mathématiques de Jussieu, France
Claudio Arezzo - The Abdus Salam International Centre for Theoretical Physics (ICTP), Italia
Benson Farb - University of Chicago, USA
Prof. Amie Wilkinson - University of Chicago, USA
Registration:
VIASM cordially invites all interested colleagues to participate VIASM Annual Meeting 2019. There will be no conference fee. For online registration, please go to: https://viasm.edu.vn/en/hdkh/am2019?userkey=registration
Deadlines for registration: August 10, 2019