Hội thảo thường niên 2020 (VIASM Annual Meeting 2020)
Hội thảo thường niên 2020 (VIASM Annual Meeting 2020)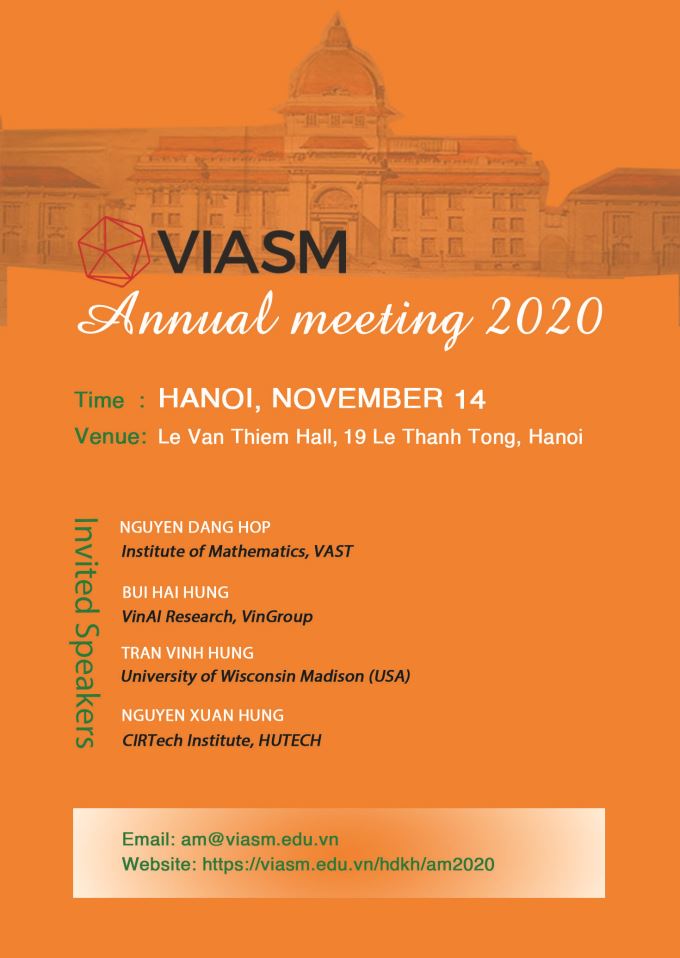 Time: 08:00 to 17:00 Ngày 14/11/2020
Venue/Location: Hội trường Lê Văn Thiêm, 19 Lê Thánh Tông, Hà Nội.
VIASM Annual Meeting is a regular activity of Vietnam Institute for Advanced Study in Mathematics. VIASM invites leading mathematicians from different areas of mathematics to deliver lectures on central topics of contemporary mathematics.
Time: November 14, 2020.
Venue: Hội trường Lê Văn Thiêm, 19 Lê Thánh Tông, Hà Nội.
Organizers: Ngo Bao Chau (Univ. of Chicago – VIASM), Le Minh Ha (VIASM)
Invited Speakers:
Nguyen Dang Hop - Institute of Mathematics, VAST

Nguyen Xuan Hung - CIRTech Institute, HUTECH

Hung Bui - VinAI Research, VinGroup

Hung Tran - University of Wisconsin Madison (USA)
Registration:
VIASM cordially invites all interested colleagues to participate VIASM Annual Meeting 2020. There will be no conference fee. For online registration, please click here
Deadlines for registration: November 07, 2020.
Contact: Email to am@viasm.edu.vn