Contemporary Issues in Mathematics and Applications
Contemporary Issues in Mathematics and Applications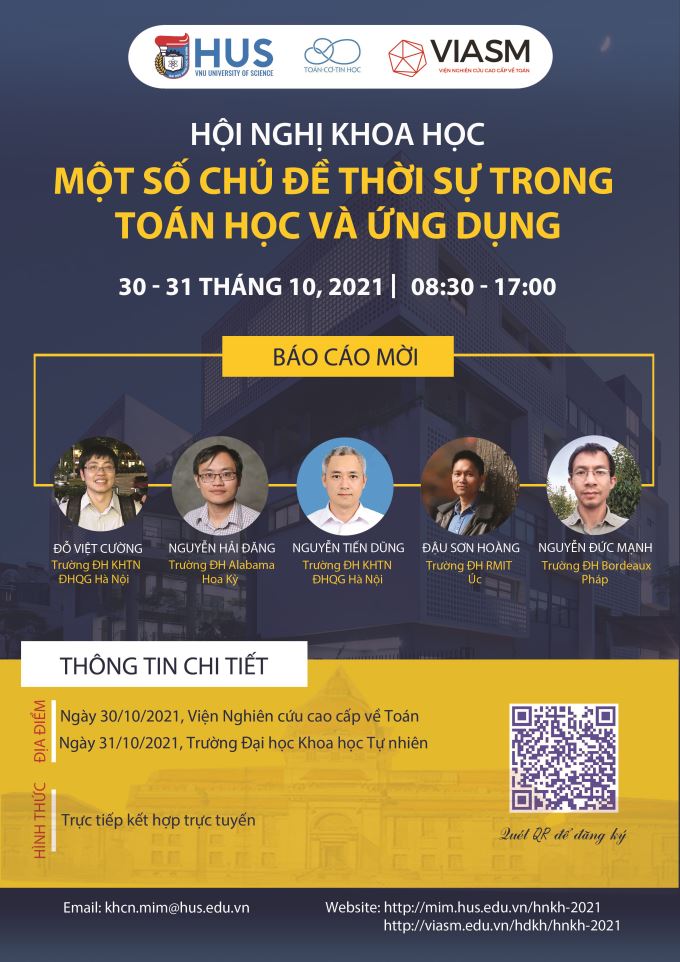 Time:08:00:30/10/2021 to 17:00:31/10/2021
Venue/Location: Vietnam Institute for Advanced Study in Mathematics (VIASM) & VNU University of Science
Objectives: "Contemporary Issues in Mathematics and Applications" is devoted to introducing important current results of modern mathematics, including areas in theoretical mathematics, applied mathematics, mechanics, and mathematical foundations for informatics and data science.
Organizers:
Faculty of Mathematics, Mechanics and Informatics, VNU University of Science, Hanoi.

Vietnam Institute for Advanced Study in Mathematics.
Program Committee: Lê Minh Hà (Chair), Nguyễn Thạc Dũng, Nguyễn Hữu Dư, Nguyễn Thị Minh Huyền, Nguyễn Hữu Việt Hưng, Vũ Hoàng Linh, Lê Hồng Phương, Đặng Hùng Thắng, Phạm Chí Vĩnh.
Organizing Committee: Phó Đức Tài (Chair), Trịnh Thị Thúy Giang (Co-chair), Ngô Quốc Anh, Trịnh Quốc Anh, Lê Huy Chuẩn, Hoàng Nam Dũng, Vũ Tiến Dũng, Đỗ Thanh Hà, Nguyễn Trọng Hiếu, Lê Quý Thường, Phạm Trọng Tiến, Trần Thanh Tuấn.
Languages: English and Vietnamese.
Plenary Speakers:
Đỗ Việt Cường (VNU University of Science, Vietnam)

Nguyễn Tiến Dũng (VNU University of Science, Vietnam)

Nguyễn Hải Đăng (The University of Alabama, USA)

Đậu Sơn Hoàng (RMIT University, Australia)

Nguyễn Đức Mạnh (Bordeaux University, France)
Report Form: in Word or Latex
Further information: http://mim.hus.edu.vn/hnkh-2021
Contact email: khcn.mim@hus.edu.vn