During the afternoon of Thursday, 14th March 2019, Managing Director Le Minh Ha representing Vietnam Institute of Advanced Study in Mathematics (VIASM) along with Vice-president Tran Van Top representing Hanoi University of Science and Technology (HUST) jointly signed Cooperation agreement regarding activities within training and scientific research scope involving both parties. The agreement focuses on coordination of various raining activities, teaching and learning innovation initiatives and curriculum reform for Mathematics majors as well as mathematics for other sciences at both undergraduate and graduate levels. In addition, both parties are also committed to coordination of scientific research and publishing of documents, materials, textbooks in Mathematics; establishing mutual communication channels for exchanging, sharing of sources of study materials under the disposal of respective parties. Under the agreement, Hanoi University of Science and Technology and the Vietnam Institute for Advanced Study in Mathematics will co-organize various activities such as Math Summer Camps, Math Open Day, … aimed at promoting Mathematics in particular and STEM disciplines in general for youth and science enthusiasts in general.
Both Parties agreed upon implementing immediately the master program "Math for Industry". The program has attracted the interest of various companies and large institutions in the country largely thanks to the practicality and growing domestic demand for labour force in this field. The enrolment for the program is expected to start in April 2019 and the first course is scheduled to commence in September 2019.
Following the above event, in the morning of Saturday, 23 March 2019 the seminar "Improving quality of post-graduate education programs via scholarship policies and university – businesses cooperation" was jointly held by Hanoi University of Science and Technology and Research Institute for Big Data – Vingroup corporation at Ta Quang Buu Library, Hanoi University of Science and Technology. Professor Vu Ha Van, Yale University – USA was invited as the honourable speaker for the seminar. The Seminar was also pleased to welcome the presence of special guests such as Deputy Minister of Vietnam Ministry of Education and Training; Deputy Minister of Vietnam Ministry of Science and Technology; Presidents of several of Vietnam's top universities and research institutes; and representative of various business, large corporations such as Samsung Display Vietnam, FPT, EVN, VNPT, General Electric Vietnam, VINACHEM, PVN, VNSTEEL, …
At the seminar, the speakers focused on discussing the following matters:
- Demand for high quality labour force at graduate level for businesses, research facilities and universities in the era of Industry 4.0 and intense digitalization.
- Current status of Master's and Doctorate education within the country.
- Directions of improving overall quality via government and social programs. Various suggestions from relevant Ministries and institutions.
- Scholarship and fellowship programs for domestic master's and doctorate's degrees by Vingroup Innovation Foundation.
- Cooperation model between universities and businesses promoting post-graduate studies, scientific research and creativity innovation (signed by MOU).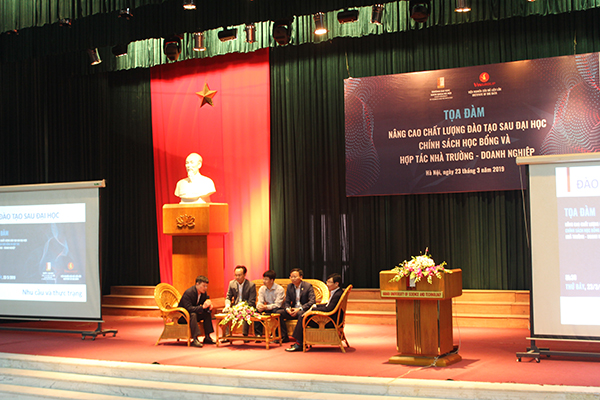 At the end of the round table discussions, The Vingroup Innovation Foundation, a member of Vingroup Big Data Institute, signed an agreement with the Vietnam Institute for Advanced Study in Mathematics andHanoi University of Science and Technology to provide full scholarship master students registered for the Math for Industry Master's program (joint program between Vietnam Institute for Advanced Study in Mathematics and Hanoi University of Science and Technology). The signing of the agreement conveyed the grand spirit of the seminar which is close cooperation between the academics and the industry in order to enhance the training of high quality labour force in the country.