Vietnam-France Meeting on Mathematics for Development
Vietnam-France Meeting on Mathematics for Development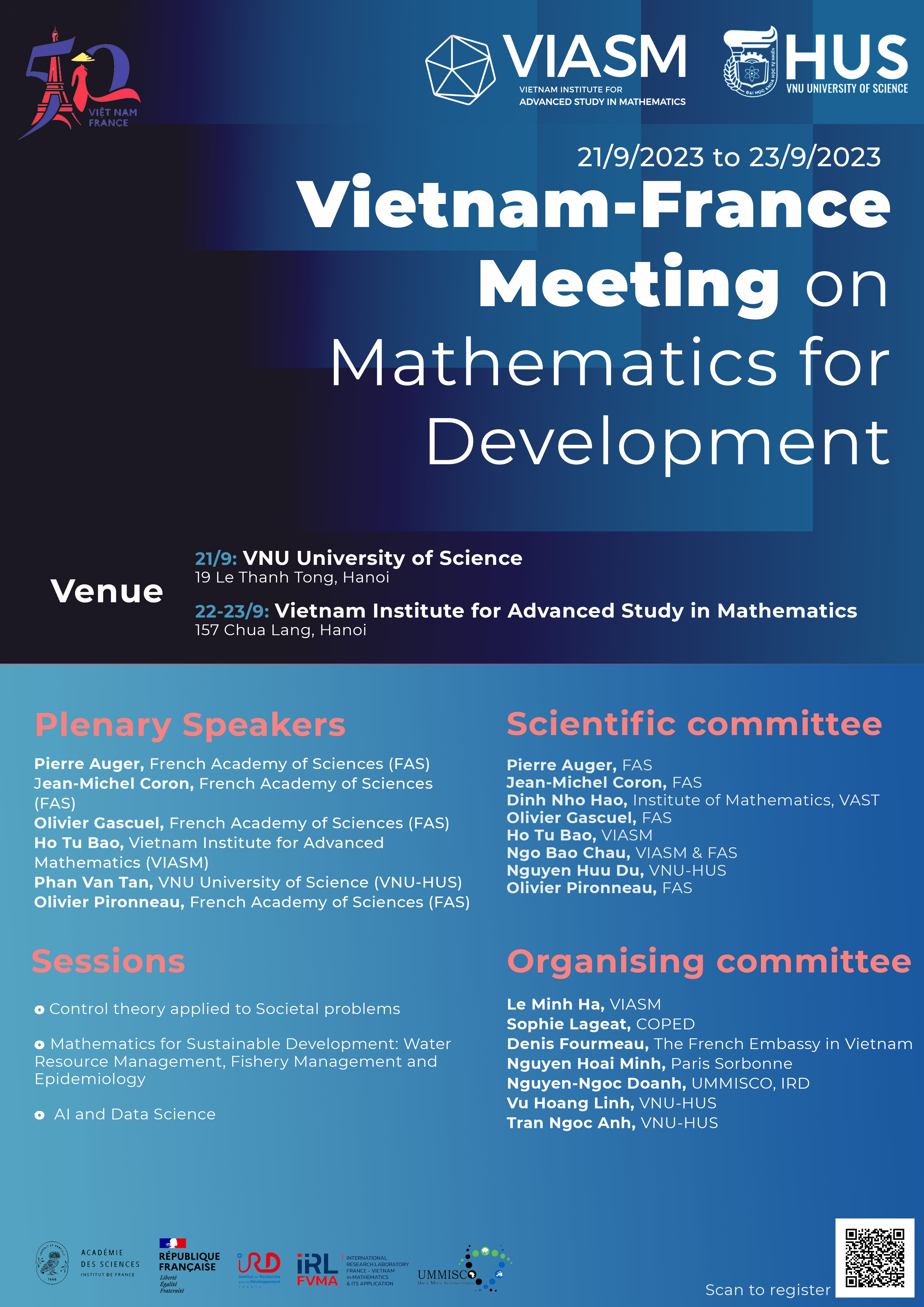 Thời gian: 13:00:21/09/2023 đến 16:30:23/09/2023
Địa điểm: Vietnam Institute for Advanced Study in Mathematics, 157 Chua Lang Str., Dong Da District, Hanoi
Time: From 13:00 September 21, 2023 to 18:30 September 23, 2023
Venue:
Vietnam National University, Hanoi University of Science, 19 Le Thanh Tong, Hoan Kiem, Hanoi.

Vietnam Institute for Advanced Study in Mathematics, 157 Chua Lang Str., Dong Da District, Hanoi.
Objective and Description of the Scientific Content
On the occasion of the 50th anniversary of the establishment of diplomatic relations between Vietnam and France, Vietnam Institute for Advanced Study in Mathematics (VIASM), Hanoi University of Science, Vietnam National University (VNU-HUS), and the French Académie des Sciences (FAS), in collaboration with the CNRS International Research Laboratory France-Vietnam in Mathematics and its Applications (IRL FVMA), the French Embassy and the International Research Network on Mathematical and Computer Modeling of Complex Systems , the National French Institute for Sustainable Development (UMMISCO, IRD), will organize a joint Vietnam-France scientific meeting on the theme of application of mathematics for sustainable development from 21st to 23rd September 2023.
This meeting aims to promote application of mathematics in the development of society, celebrating the International Year of Basic Sciences for Sustainable Development 2022-2023 by UNESCO and the United Nations.
The meeting will be held at two venues: The first day of the meeting will be held at the historic Nguy Nhu Kon Tum Lecture Hall of VNU-HUS, followed by two days of scientific talks at VIASM.
There will be several plenary lectures and invited talks, as well as short communication by early career scientists in three parallel sessions: Control Theory; Mathematics for Sustainable Development, and Data Science & AI.
Session on Control theory applied to Societal problems: Control theory finds numerous applications in everyday life and technology. The objective of this section is to establish a platform for exchanging novel results and approaches concerning various aspects of controllability, optimal control, and stabilization

Session on Mathematics for Sustainable Development: Water Resource Management, Fishery Management and Epidemiology: The session will present recent developments in the field of mathematical modeling of ecological systems with a focus on sustainable development approaches. The session will also address sustainable water resource management and climate change, sustainable management of fisheries systems, and epidemiology. Beyond the theoretical approaches, particular attention will be paid to presentations comparing mathematical models to real cases, notably Vietnam.

Session on AI and Data Science: This session introduces some recent work in France and Vietnam in the field of AI and data science, both from theoretical to applied research and development in the above fields. In particular, the session has the participation of Vietnamese scientists who were trained in France as well as French scientists who are doing research and teaching in Vietnam.
Language: English
Co-organising Institutions
The French Académie des Sciences (FAS) (The Academic Standing Committee for Developing Countries-COPED)

The Vietnam Institute for Advanced Study in Mathematics (VIASM) (including the VIASM Data Science Lab-DSLab and The Vietnamese Climate Science and Environmental Modelling Network - VCSEMN)

The Hanoi University of Science, Vietnam National University - Hanoi (VNU-HUS).

International Research laboratory France-Vietnam in Mathematics and its Applications (IRL FVMA).

The French Embassy in Vietnam.

The International Research Network on Mathematical and Computer Modeling of Complex Systems, the National French Institute for Sustainable

Development (UMMISCO-IRD)
Organising committee
Le Minh Ha (VIASM)

Sophie Lageat (COPED)

Denis Fourmeau

(The French Embassy in Vietnam)

Nguyen Hoai Minh (Paris Sorbonne)

Nguyen-Ngoc Doanh (UMMISCO, IRD)

Tran Ngoc Anh (VNU-HUS)

Vu Hoang Linh (VNU-HUS)
Scientific committee
Pierre Auger (FAS)

Jean-Michel Coron (FAS)

Dinh Nho Hao (Institute of Mathematics, Hanoi, Vietnam Academy of Science and Technology, IMH-VAST)

Olivier Gascuel (FAS)

Ho Tu Bao (VIASM)

Ngo Bao Chau (VIASM & FAS)

Nguyen Huu Du (VNU-HUS)

Olivier Pironneau (FAS)